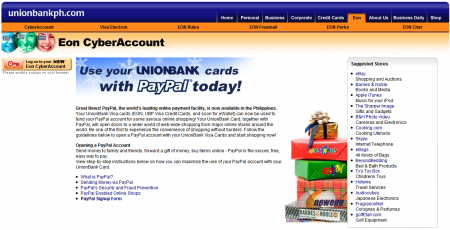 Quick to notice how Filipino bloggers and online entrepreneurs have been signing up for their EON/VISA Electron CyberAccount, UnionBank now has a specific page that promotes the use of PayPal in the Philippines, through their EON/VISA Electron debit cards than can be funded with money sent through Paypal.
After PayPal has allowed full capabilities for Filipino users, bloggers were first to sign up for EON cards to check its compatibility with PayPal.
With UnionBank's aggressive marketing of its EON card's PayPal capabilities, it wouldn't be surprising if other banks will follow suit pretty soon. BPI already has their own debit card in Express Cash, which we're still to check if it can be used with PayPal or any online transactions in general.
I just signed up for my own EON VISA Electron before UnionBank decides to increase their reasonble 350 peso annual fee.