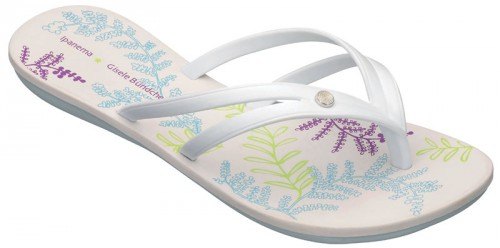 Having been part of their launch event, we share with you the new look of Ipanema with 2009's Gisele Bundchen Seeds Collection:
Put your best foot forward and don fashion savvy flip-flops in funky and vibrant styles as the premiere Brazil based flip-flop brand, Ipanema takes on a new look this 2009 and introduces the GB Seeds Collection by famed Brazilian fashion icon and dubbed by Forbes Magazine's "The World's Top-Earning Model," Gisele Bündchen!

Unique details adorn the latest GB Seeds Collection by Ipanema such as the forest-inspired print on its soles and the metal spiral button gracing the front sandal strap that symbolizes "the seed of life." This metal emblem empowers each wearer to do their part and share in the campaign towards a lush Philippines by helping to spread the word.
Along with the new line, they are launching a walkathon dubbed "Walked the Green Mile," in partnership with the Haribon Foundation, one of the country's foremost environmental conservation group.
With an aim to benefit Philippine rainforests, the walkathon will be on March 21, 2009 and will start front of Le Souffle in The Fort, Taguig City.
Some photos from the event are at my personal blog.